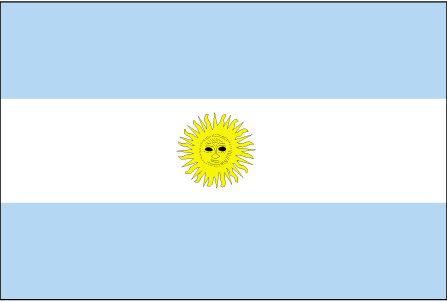 International Shipping from / to Argentina
The International Cargo Shipping to Argentina Directory allows you to quickly find suppliers of logistics services in Argentina.We list Argentina shipping companies who can provide you with a low cargo rate for your international cargo shipping to or from Argentina.Services provided are: Argentina air cargo, Argentina ocean cargo, Argentina road freight as well as national and international movers to / in Argentina.
Customs in Argentina
The Bureau of Customs is the agency in Argentina that handles the administration of Customs laws, tariff compliance and regulation adhering. This Bureau is notorious for returning items to their sender if they don't have the proper paperwork with them. These items vary but include cell phones, medicine, laptops and digital cameras which require additional permits to be shipped into Argentina than your standard packages. It is imperative that you check with the Bureau of Customs in Argentina, or at the very least your shipping company, about what paperwork you need to have on file before you ship there so that your parcel has a chance to get to its intended recipient. Also, it is important to note that if your package is returned to you, you will be held responsible for the fees of the return and ten days of storage for the package.
Security concerns when shipping to Argentina
The main concern when shipping to Argentina is probably going to be web of paperwork and permits you may have to have in order for your package to get to the proper place. Beyond that there is a need for some concern about the security within Argentina given its security breaches in the past with shipments. There has been a series of thefts and seizures for goods being shipped there so this is something to be aware of before you decide to send something to Argentina. If you still want to ship there, consider taking out some insurance on your goods before doing so.
Required documents when shipping to Argentina
When shipping to Argentina, all shipments need to have an air way bill and a commercial invoice attached to them. They also will need packing list and a certificate of origin at a minimum. Some items like chemical products, cosmetics and defense materials will need additional permits to get into the country so it is best to check with either the Bureau of Customs or your shipping company to verify what your particular shipment requires before you ship it.
Argentina has International Shipping to: Bahia Blanca, Buenos Aires, Buenos Aires Ezeiza International, Caleta Olivia, Campana, Canadon Seco, Cinco Saltos, Comodoro Rivadavia, Concepcion del Uruguay, Diamante, Don Torcuato International, Ibicuy, La Tablada, Lujan De Cuyo, Malargue, Mar del Plata, Mendoza, Necochea, Neuquen, Puerto Deseado, Quequen, Ramallo, Rio Gallegos, Rio Grande, Rosario, Salta, San Antonio Este, San Julian, San Lorenzo, San Pedro, San Sebastian, Santa Cruz, Santa Fe, Tartagal, Ushuaia, Villa Constitucion, Zarate, Catamarca, Concordia, Cordoba, Corrientes, Formosa, Junin, Junin, La Quiaca, La Rioja, Oran, Parana, Presidencia, Reconquista, Rio Cuarto, San Juan, San Luis, San Rafael, San Rafael, San Salvador de Jujuy
International Shipping Message Board:
International Shipping to Argentina

My nephew has requested that I send her a few items so I am requesting information about international shipping to Argentina. If your company offers this service, please email me as soon as possible as I want to ship this package by the end of this w ...