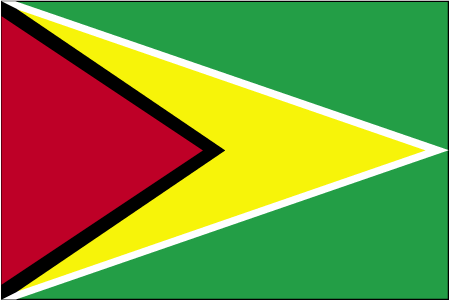 International Shipping from / to Guyana
The International Cargo Shipping to Guyana Directory allows you to quickly find suppliers of logistics services in Guyana.We list Guyana shipping companies who can provide you with a low cargo rate for your international cargo shipping to or from Guyana.Services provided are: Guyana air cargo, Guyana ocean cargo, Guyana road freight as well as national and international movers to / in Guyana.
Who ships to Guyana?
Laparkan Freight Forwarding Division, NEX and Mike Harrison Shipping all service the Co-operative Republic of Guyana for shipping services. C & V Caribbean Shipping, Shipping Worldwide and the Guyana National Shipping Corporation all ship there as well. Inter Island Shipping is a great company, but they only handle regional shipping within the Caribbean. FedEx, USPS and UPS all ship there too, but they tend to focus on smaller goods and parcels. Home Shipping and PSS Removals both ship to this country, specializing in relocation services.
Security concerns when shipping to Guyana
There is a fair amount of thievery that happens here, sometimes targeted towards shipments. This can happen at the ports or once a parcel is out for delivery. The parcels that are pegged as holding a resell value in the black market are the ones that are stolen the most, but all kinds of packages have been taken from time to time in the Co-operative Republic of Guyana. It is best not to send anything that can not be easily be replaced in case this does happen to you and to get some insurance on your items to be safe.
Preparing your shipment to Guyana
Some shipping companies, such as FedEx and USPS, have shipping supplies that you have for free to help you package your items before you ship them to the Co-operative Republic of Guyana. Some companies may even offer to package your goods for you, some charging a fee for this added service while others may not. Just be sure to include with your goods the appropriate paperwork that is required based on the items you are sending as well as contact instructions in case there are any problems along the way.
Shipping destinations in Guyana
You can ship to any where in the Co-operative Republic of Guyana, although the smaller, less densely populated area may not have delivery services to their doorsteps. In these cases, the intended recipient will have to travel to a centralized location or hub and gather their parcels personally. It is best to see if your final address falls under this category so that you can give your recipient a heads up before you ship something to them.
Guyana has International Shipping to: Georgetown, New Amsterdam, Kaietuer Falls, Lethem, Mabaruma