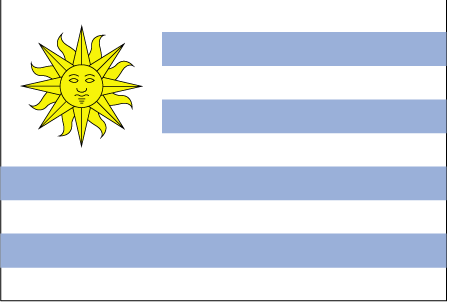 International Shipping from / to Uruguay
The International Cargo Shipping to Uruguay Directory allows you to quickly find suppliers of logistics services in Uruguay.We list Uruguay shipping companies who can provide you with a low cargo rate for your international cargo shipping to or from Uruguay.Services provided are: Uruguay air cargo, Uruguay ocean cargo, Uruguay road freight as well as national and international movers to / in Uruguay.
Who ships to Uruguay?
Maersk Line is a Uruguay based shipping company that is both reliable and reasonable in their pricings. MSC and International Shipping also ship there, focusing on bigger items of cargo. FedEx, ISP Parcel and UPS are also good choices, but mainly for the smaller shipments. Morgan Shipping and AmeriCargo are also worth looking at if you are shipping this of considerable size. Each shipping company will offer you different choices as far as shipping speeds go so be sure to ask what they have ti choose that best fit for shipment.
Packaging when shipping to Uruguay
It is best to contact your shipping company in concerns of preparing your package to ship to Uruguay. They will have recommended shipping sizes, both in size and weight, that you should try to adhere by. These standards are set forth so that they can have order with their shipping as well as to protect your goods while being shipped. If you have an odd shaped items, such as snow skis as an example, then it is imperative that you consult with your carrier as to what the best plan of action will be for your situation.
Required documents when shipping to Uruguay
The documents you need when shipping to Uruguay can vary slightly based on what you are shipping and how you plan on shipping it. As a rule of thumb, you are generally going to have to supply a bill of lading and a certificate of origin with your shipment. You will note a declared value for your shipment and if it is above a certain threshold (typically $100, but that depends on what it is), then you will be assessed a duty or fee in order for your shipment to be released from Customs. This will require a bit more paperwork once paid, but nothing that you have to do in advance of such a situation.
Uruguay has International Shipping to: Colonia, Fray Bentos, La Paloma, Montevideo, Nueva Palmira, Paysandu, Artigas, Florida, Melo, Mercedes, Paso de los Torros, Salto, Tacuarembo, Treinta Y Tries
International Shipping Message Board:
International material shipping to Uruguay

Good day. Tapestries and Such Warehouse is a fabric and tapestry warehouse based in Minas, Uruguay. We have some new suppliers of some special fabrics in Medina, Saudi Arabia and we would like to start carrying their lines of fabrics as they are ve ...

International office shipping to Uruguay

Good day all. I am here as a representative of Pewter and Sons. We are a small firm that is in the middle of expanding out reach. We are currently only located in Lima, Peru but as of the end of next month, we hope to be up and running in Montevid ...

International shipping from Uruguay to Dominica

I am looking to ship used household goods from Montevideo, Uruguay to Castle Bruce, Dominica. The size would be about two meters by one meter by two meters. Weight would be about 150 k. I would need to know time and charges. They are my personal ...